50 Fun Things to do at home: A Summer bucket list
It's summertime! Everything under the sun you need to know about family fun during these summer days in the Twin Cities. Help your whole family beat boredom and fill your long school break days exploring the best the Twin Cities has to offer. Our list of summer activities includes parks, swim spots, community entertainment and local festivals, and it can all be found in our 2023 ULTIMATE TWIN CITIES SUMMER EVENTS GUIDE.
At-Home Fun Summer Bucket List Activity Ideas
DIY your own summer fun and put a twist on the classic pinata.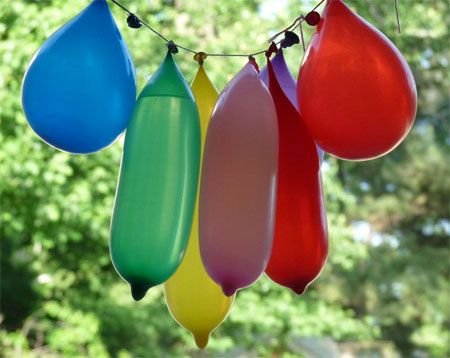 I love fairy gardens. And this is the year for one. I have a space and I have the time. Now, I need to make it.  Doesn't a fairy garden sound like a perfect summer activity this year?
This is one of those perfect outdoor games that can involve a spread of ages. We love to play with the grandparents!

I have never built a birdhouse.  My kids have each built one, so this might need to be a "Kids Teach Mom" project.
One EPIC sprinkler in the backyard! Build it, turn the hose on, step back, and watch your creation come to life.
The first step is find a slope in the yard. The momentum of running and flinging your body on the ground will definitely create a big splash. Once you have all the kinks worked out, invite the neighborhood.
We went straight to the best source – the North American Butterfly Association – for the best advice.
Making your own solution will guarantee that you have the best bubbles. Our friends at Indy with Kids have come up with 11 Ways to Have Bubble Fun at Home.

9) Lie on your back and stargaze 
You could go one of two ways with this. If you make it an event, your kids will buy into the excitement. Bring out blankets/sleeping bags, pillows, and stuffed animals.  Or get them out of bed (not too long after they go, so they aren't sleepy) and lead them out to a magical space in your backyard.  
Fun summer activities don't have to be hard.  Homemade ice cream is as simple as cream, sugar, ice, and rock salt.  
11) Build a low balance beam
Try placing it through the middle of your garden. Challenge your kids to walk, hop, and dance across the beam without falling off.
Beads and yarn, seashells and sand, jars and paint. Use what you've got around the house or yard or from your vacation, and create a nature collage.
14) Sign up for a library summer reading program
Get your nose in a Summer Reading Program – Each of 8 metro-area library systems participate in a summer program and are busy all summer long with free programs for kids. Sign ups for summer reading typically begin close to June 1.
Have a fun camping experience together by pitching a tent in your own backyard. Invite your kids' favorite stuffies or other toys to join you. Find some creative ways to spice it up a little at the link.

On your driveway or sidewalk – don't forget the rainbow sidewalk chalk! While you've got the chalk out, decorate the pavement and leave messages for the neighbors.
Find tips for creating your own backyard movie theater. Or keep it simple and pop some popcorn and project a favorite movie on the garage.
18) Picnic in your yard
We think almost all food tastes better out of doors. The kids will scarf down this chicken salad recipe. Add some cookies or ice cream and you will have a winner!
19) Round up a kickball team 
This should be somewhat self-explanatory. However, if you need a rule refresher, you can find them here.
We have a ton of great ideas and resources for you in helping your family plant a garden together.
21) Declare a Challenge Day 
Can you break the record for jumping jacks? How fast can you run down the driveway? How high can you (safely!) climb that tree? Who can find the best (safe) hiding spot?  Who can play backyard baseball the longest? Don't forget the best challenges: how many books or chapter can you read today?  Who can be kind all day? Who can go the longest without needing Mom!

Make sure you play the music outside!
23) Build an obstacle course in the backyard
This obstacle course is about the coolest obstacle course I have seen in a backyard.
Commit to playing a game or doing something outside every evening you are home. Start small and see what you can do by the end of the summer.  Work toward a prize like going to the State Fair or Como Town. 
Hold your own competitions in the yard. Get some ideas at the link.
Or do another science activity together. These are just two of the entries on our list of 60+ Fun Nature Play Ideas for Kids.

Our huge summer community events list covers each corner of the Twin Cities Metro area – use it to find entertainment in the parks, swimming holes, splash pads, library events, bike trails and more.
---
Parks & More Summer Bucket List Activity Ideas
Minnesota side (Taylors Falls) or Wisconsin side, both are equally beautiful and geologically interesting.

We highly recommend renting from Taylors Falls Canoe & Kayak Rental and getting out on the water. Your teens & tweens will be proud to have the stamina it takes to paddle the 7-mile one way trip from Taylors Falls to Osceola, Wisconsin. Younger kids can enjoy the gentle ride and will be thrilled to stop on the sandbar to swim.
29) Go fishing in Snail Lake 
This is one of the top Twin Cities fishing holes we recommend. The lake is located in Snail Lake Regional Park in Shoreview.
30) Rent and paddle a canoe or a kayak at Silverwood Park
Located in St Anthony. Take the time to wander the trails and seek out the public art.

This is where the mighty Mississippi and Minnesota rivers meet. GPS units, birding kits, and fishing poles are available for free during your visit to the park. Check out fishing poles at the park office and the GPS units and bird kits at the Visitor Center.

32) Go wading in a creek 
Minnehaha Creek rambles 22 miles from Lake Minnetonka to Minnehaha Falls and is a joy to splash, wade or paddle down.
Our top pick is the amazing Discovery Hollow Nature Play Area at Tamarack Nature Center, White Bear Lake.
34) Summer mini golf is a classic choice
Our favorite whimsical outdoor miniature golf course is Big Stone Mini Golf & Sculpture Garden in Minnetrista and it's open for play.
35) Challenge your kids
Here's something I guarantee your tween will love: knowing they can beat you at the Schaper Park Challenge Course! (At least mine could; perhaps you're more in shape?) Located in Golden Valley.
Start on either the Coon Rapids side of the park or the Brooklyn Park side (now known as Mississippi Gateway Regional Park).

One of our favorite lakes to visit. Better yet, bike it! We've included this route in our list of the best St Paul bike trails for families – and there's so much more to explore at Como Park.
It's home to one of the two largest playgrounds in Minnesota.

Never been birding? Joy has everything you need to know.
40) Hop on your bike
Ride the trails along the Mississippi River – West River Parkway on the Minneapolis side or Mississippi River Blvd on the St Paul side both have dedicated bike lanes and many parks and overlooks to pull over and explore. Want more inspiration? Here's a list of the top Minneapolis bike trails.
41) Hunt for fossils 
St. Croix Bluffs Regional Park is a good place to start searching or check out Joy's fossil-hunting ideas here.
42) Three Rivers Park beaches
Open for the season early June. There are so many swimming options to be had in the Twin Cities! The following locations are included: Baker Park Reserve, Bryant Lake Regional Park, Carver Park Reserve (Lake Auburn Campground), Cedar Lake Farm Regional Park, Cleary Lake Regional Park, Fish Lake Regional Park, French Regional Park & Lake Rebecca Park Reserve.
Walk or bike through the park and make sure to descend to the creek get a thrilling view of the falls or go wading downstream! The park's outdoor dining destination, Sea Salt Eatery, is open for online ordering and pickup if you'd like to eat a meal in the park.

44) FREE Minneapolis wading pools
Have opened up for the summer! Want to find out which parks have pools? See our Minneapolis wading pools master list.
45) Organize an animal-loving field day nearby park 
Gallop like a horse, run like a dog, slither like a snake, walk like a bear, crawl like a turtle. Need an idea for a park close to home? We're starting a new series!

46) Play a round of disc golf 
Find our recommendations for the best family-friendly disc golf courses. Some of our favorites include courses at Highland Park (pictured – and FREE!), Kaposia Park (South St Paul), Bassett Creek Park (Crystal) & Central Park (Brooklyn Park).

47) Grab a basket and pick-your-own fresh berries
Delicious-ness will be had at one of these Twin Cities PYO Produce Farms. Pictured are little berry hunters harvesting at Blueberry Fields of Stillwater. Strawberry picking typically starts mid-June, raspberries follow in July, and blueberries are ripe by August.
Take the self-guided sculpture trail and see if you can find the hidden labyrinth within this peaceful park.
Catch one ongoing Thursdays starting June 1 on West River Road south of Broadway Avenue, Minneapolis. Bring lawn chairs and a picnic supper to make an evening of it. 7pm, FREE.
It's the outdoor (and free!) portion of the Walker Art Center.
---
Looking for More Summer Fun?
Get some new summer reads from FFTC's online Bookshop.  We are affiliates of this program, so we earn a small commission on anything you purchase through our link. All of it is at no extra cost to you. And you are supporting local independent bookshops!

Summer Boredom Busters
Disclaimer: We are Amazon associates which means we earn a commission if you purchase through our Amazon links. At no extra cost to you. Our commission is super tiny, so buy local if you can, but if you can't we appreciate the pennies.