416 North Griggs Street, Saint Paul, MN, USA 55104

651-266-6400

Hours of Operation:

Mon. 06:00 AM – 11:00 PM

Tue. 06:00 AM – 11:00 PM

Wed. 06:00 AM – 11:00 PM

Thu. 06:00 AM – 11:00 PM

Fri. 06:00 AM – 11:00 PM

Sat. 06:00 AM – 11:00 PM

Sun. 06:00 AM – 11:00 PM

St. Paul Parks are open from sunrise to 11:00 p.m

Details:

Midway Peace Park (f/k/a Park at Griggs) is a recently developed neighborhood park in the Saint Paul Midway. This 5-acre park is intended to be an outdoor gathering space near the Green Line. Park construction began in fall 2019 and was mostly completed in 2020.  Some additional work will be done in 2021. The finalized playground is huge and beautiful.  See a video created by the equipment designers, Landscape Structures, below:
Family Friendly Amenities at Midway Peace Park
Family friendly amenities include the huge playground with a nearby shade structure as well as a good amount of green space circled by a walking loop with benches for resting. Lexington-Hamline Community Council has created a downloadable scavenger hunt for this and several other nearby parks. There is also an outdoor stage for community events, a basketball half-court, bike racks, and a peace pole.
What is a peace pole?
According to Keeling-Puri Peace Plaza, "Peace Poles are hand crafted obelisks erected all over the world and are dedicated as monuments to peace. They serve as a constant reminder to us to visualize and pray for world peace."
Water is an important element at this park
The park was built with a water feature and rain gardens. A drinking fountain has been installed but had not been connected yet in 2020. That should be done in 2021 along with more landscaping. There are signs in multiple neighborhood languages throughout the park explaining how polluted water from the parking lot is cleaned by the raingardens and is then re-circulated through the channel water feature until it finally flows into the lower raingarden, ultimately helping to protect the environment and Mississippi River.  See the signs here.
Below is a proposal drawing of Midway Peace Park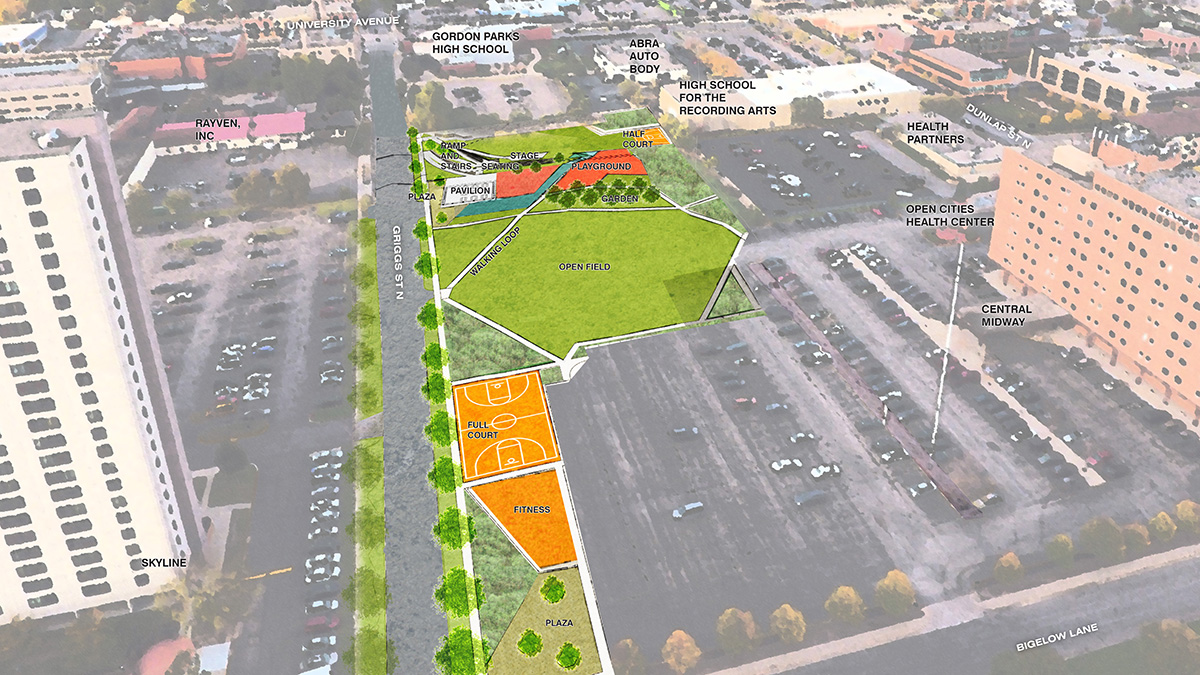 Related Articles:
The Family Fun Twin Cities Directory is the most extensive collection of companies, organizations, activities and places to find things to do with kids in the Twin Cities.