Celebrating 4th of July means that we are in the middle of all the summer fun!  And while this year our Independence Day may look different than in the past, we can still have fantastic festivities to remember.
What I remember about celebrating the 4th of July as a kid are the following:
parade

picnic

swimming

fireworks
That seems to be a pretty basic and re-creatable agenda.  Community parades aren't happening this year, but you can make a parade at home.  Swimming may be hit or miss, but you can do exceptionally exciting water fun at home.  Lack of fireworks displays getting you down?  We even have that covered for you (from a locally owned fireworks company).
If you have time to prepare for the 4th, we have some ideas for you. If you don't have time to make elaborate plans for the day's celebration,  NO problem! We gotcha covered.
Super Fun 4th of July Activities that Require Some Prep
Make Patriotism Wearable
Nothing says 4th of July like the American Flag.  And when you wear the American Flag, you've got clothing and party decorations covered.  Stef from Non-Toy Gifts (a fellow Minnesota mom) has a boatload of suggestions on this post that include painting shirts or sewing shirts.
 
I think my favorite t-shirt is this one that has the stars made with negative white space.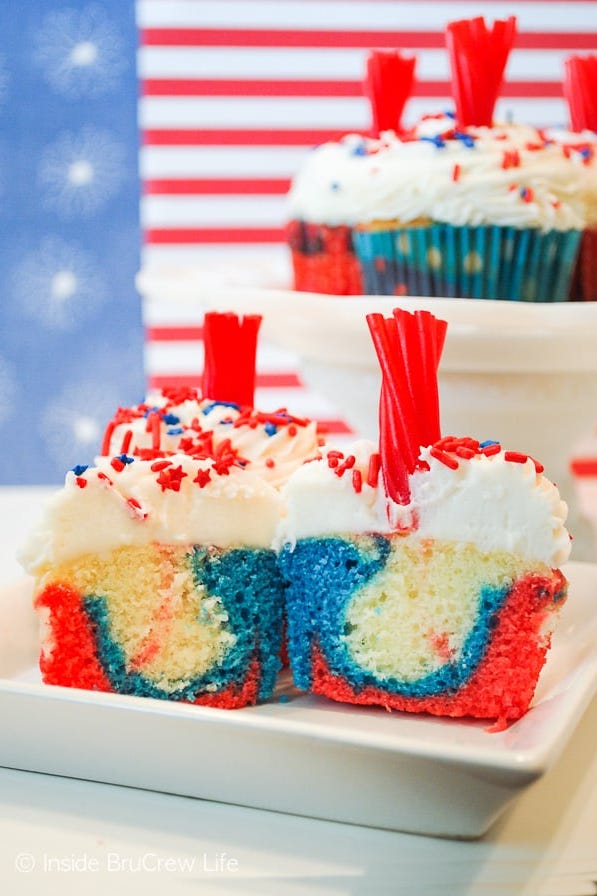 Bake Patriotic Cupcakes
One of my daughter's favorite things to do is bake cupcakes.  If you have a baker in your family, nothing is more fun than incorporating red, white, and blue into your food.  
Our favorite place to go for baking supplies is Lynn's Cake and Candy Supplies.  They have so many things to choose from: cupcake papers, food coloring, frostings, icings, and fillings, cupcake favors, and all the help you could need to make your cupcakes super fun. 
Decorate with red, white, and blue.
You will get the most bang for your buck (and time) by focusing your decorating attention on the table.  If you serve your food on a patriotic tablecloth, use mini American Flags as centerpiece, and string a garland above it, your efforts will be spot on.
Stock up on sparklers and family fireworks
Minnesota fireworks laws can be summed up in this phrase:  If it goes up or blows up, it's illegal.  However, Joy has outlined the laws for you so you can be completely  informed of  the laws if you have a more complicated scenario.
 Independence Day celebrations aren't complete without something a little sparkly.  Get your fireworks fix at home with some sparklers and then tuck everyone into bed and sit outside with a lemonade to unwind.
---
SUPER Fun 4th of July Activities with No Prep
Here are some fun ideas that don't need very much preparation.  If you are like me, this is the handy dandy list that you will use the most.
Make Homemade Rocket Pops or Ice Cream
This does take a little bit of prep with buying the groceries, but that's it!
Click here for more rocket pops
Make a Backyard Waterpark
Waterparks aren't really open right now, but that doesn't mean you can't create water fun for your family.
https://thethriftycouple.com/16-brilliant-ideas-to-create-your-own-diy-backyard-waterpark/
Read books about American History

On our Pinterest Board we've collected a bunch of stories for you to enjoy with your kids about the history of the United States. And because we are going on the journey of racial reconciliation, we are trying to choose books from a broad scope of viewpoints.  Please let us know of other titles since we are just at the beginning of our journey.
Click here for History Books
March in a parade in your backyard
Use marching band tunes by John Philip Sousa
Click here for John Philip Sousa tunes
Have a picnic or BBQ or hot-dog eating contest
What is more 4th of July than a picnic?  I would wager not much!
Click here for the perfect Picnic Chcken Salad
Click here for Hot Dog Eating Contest Instructions
Listen to a famous speech by an American President or Community Leader
YouTube has a collection you can use to listen:
https://www.youtube.com/watch?v=vnVwvPpdFeY
---
This year we have the chance to think outside the box and still keep our traditions alive.  Let's celebrate our country, make memories, and have an incredible holiday.
Happy 4th of July!