In the event that you're looking for one more place your child can stretch the use of their Halloween costume (and, yes, collect some goodies), several local grocery stores are offering trick-or-treat fun and other activities in the upcoming weeks:
Or, jump over to our Trick-or-Treat at Twin Cities Shopping Malls and Centers list.
Look for grocery stores to begin announcing their 2019 events around mid-October. While you wait for official announcements, the Teddy Bear Band has the Hugo Festival Foods' Boo Fest on their performance calendar for October 19th from 10:30am-11:30am.
---
Hy-Vee Kids Halloween Events
October 26: Find Your Closest HyVee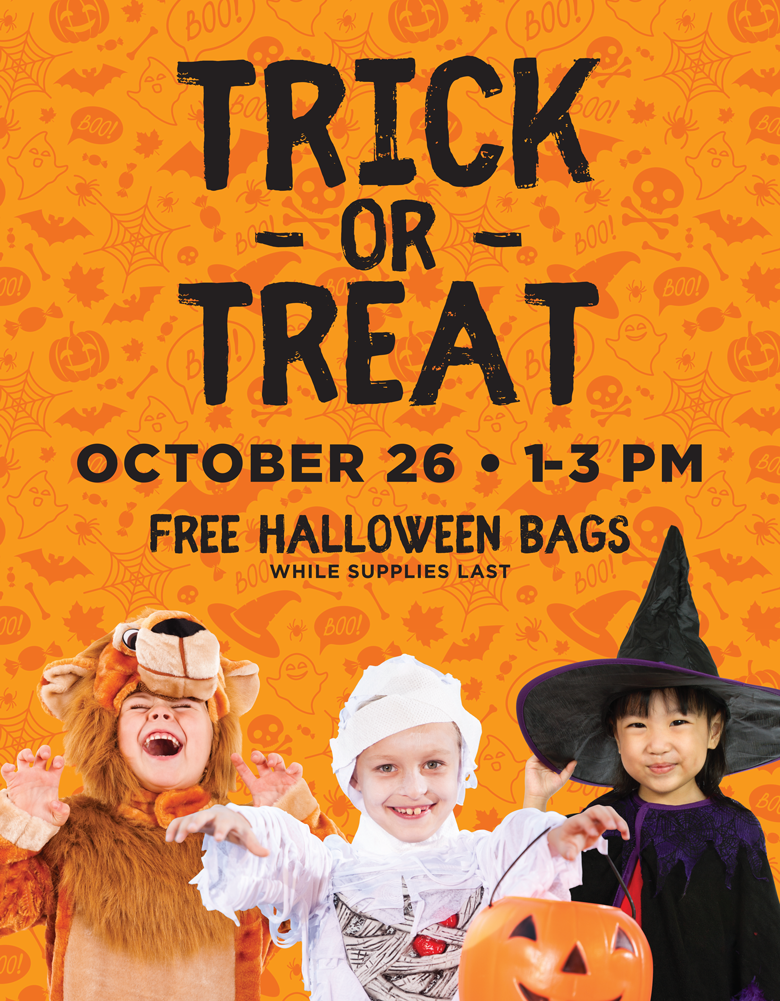 ---
Jerry's Foods Halloween Creepy Crawl | Lots of in-store trick or treating, crafts, goodies, face painting and more.
Oct 26: Edina (11am-2pm)
Oct 26: Eden Prairie (11am-1pm)
---
Lunds & Byerly's Boo Blast and Fall Festivals | Whether your local store calls it Boo Blast or Fall Festival, kids can dress up, troll for treats and enjoy other activities.
Oct 24: Maple Grove, Roseville (4-7pm)
Oct 26: Downtown Minneapolis (11am-2pm), Northeast Minneapolis, Plymouth, Wayzata (11am-3pm), Prior Lake (12-3pm)
Oct 27: Highland Park, (10am-12pm)
Oct 29: Bloomington, Burnsville, Chanhassen, Eagan, Eden Prairie, Glen Lake, Golden Valley, Navarre, Richfield, Ridgedale, Woodbury (4-7pm); White Bear Lake (4:30-7:30pm)
---
Kowalski's Boo Bash | Come in costume and collect (mostly healthy!) treats throughout the store.
Oct 29: All participating Metro locations (4-7pm)
---
Stay Tuned for More!
---
Road Trip Trick-Or-Treat 
Not that we are advocating that you drive all the way to Wisconsin or Saint Cloud to celebrate Halloween at a grocery store, but if you are going to be there for other reasons, we have a fun opportunity for you.
Festival Foods | Boo Fest
Lunds & Byerly's Boo Blast  | Dress up, troll for treats and enjoy other activities.
Wednesday, Oct 23 | Saint Cloud (4-7pm)
---
Any one of these events could be a great alternative if you've got little ones that aren't quite ready to head out after dark on Halloween night (and I can say, from experience, these stores offer some healthier alternatives to candy!).