It's been a year of trials and a year of losses.  It's been a year of hope in unexpected places and a year in our homes. 
As things start to open ever so carefully, we will never forget March of 2020 when the whole world was confined to their homes. While we were stuck in our places of residents, we needed something to look forward to. We needed to celebrate. Did you know that there is a holiday you can celebrate every single day? There is and we found 31 March Holidays to create Family Celebrations for you. 
We wanted to get this list to you asap, so we finished it as fast as we could in time for the end of March.  We will update as we can.  Have fun celebrating TODAY!  
FFTC makes a commission for purchases made through
Amazon or Maestro links on this page.
March 1 National Pig Day
Bookflix pairs The Three Little Pigs with a non-fiction book about Pigs.
March 2 Dr. Seuss's Birthday
We found some amazing ideas at We Are Teachers to go with every one of Dr. Seuss's books. This was published in 2018, so the books that stopped being printed are included.  Just a heads up. 
March 3 National Anthem Day
The Inspired Classroom has a load of great activities to consider if you want to enjoy this holiday together.
March 4 National Marching Music Day – March Fourth er Forth
Watch The Music Man or march in a parade down your block!
March 5 Birthday of George Frideric Handel
Learn more about Handel at Maestro Classics
March 6 National Oreo Cookie Day
My family's favorite cookie is the Oreo.  This holiday was made for us.  Find simple but delicious ways to celebrate here.
March 7 Laura Ingalls Day
Watch this iconic show from our childhood.  I believe it's on Amazon Prime.  You can also make butter from the Little House on the Prairie Blog.
March 8 International Women's Day
March 9 National Meatball Day
Make meatball subs.  Tales of a Teacher Mom can give you a hand.
March 10 – Harriet Tubman Day
Read Aloud: Log into Bookflix and watch Planting a Rainbow by Lois Ehlert and It Could Still Be A Flower by Allan Fowler
Dinner Conversation Starter:
March 11 National Johnny Appleseed Day
Homeschool Preschool has lots of ideas for activities to do on this super fun day.
March 12 – Plant A Flower Day
At Home Family Fun: Start some sunflowers in a sunny window today.
Outing Idea: Get a break from Minneapolis March by visiting the flowers in the Como Conservatory today.
Read Aloud: Log into Bookflix and watch Planting a Rainbow by Lois Ehlert and It Could Still Be A Flower by Allan Fowler
Learn More: About Plant A Flower Day
March 13 National Open an Umbrella Indoors Day
March 14 – Save a Spider Day
Read Aloud: Log into Bookflix and watch Diary of a Spider by Doreen Cronin and A Spiderling Grows Up by Pam Zollman
Learn More: About Save A Spider Day
March 14 Bonus Holidays – Pi Day & Open An Umbrella Indoors Day & World Imagination Day (celebrating the birthday of Albert Einstein). We recommend reading the book In the Space of the Sky by Richard Lewis and illustrated by local favorite, Debra Frasier to celebrate imagination.
March 15 Ides of March Day
March 16 Giant Panda Bear Day
March 17 St. Patrick's Day
March 18 National Sloppy Joe Day
March 14 – World Sleep Day
At Home Family Fun: .
Outing Idea: .
Read Aloud: Log into Bookflix and watch How Do Dinosaurs Say Goodnight? by Jane Yolen  and A Good Night's Sleep by Sharon Gordon
Meal Idea: .
Dinner Conversation Starter:
Learn More: World Sleep Day
March 20 – First Day of Spring a/k/a International Day of Happiness & Snowman Burning Day
At Home Family Fun: I know its spring, not summer, but this still reminded me of Olaf. Sing along to "In Summer".
Outing Idea: We have a great planning guide for visiting Como Park in the Spring: Como Park Spring Edition.
Read Aloud: Bookflix Pairing: Fiction – And Then It's Spring / Non-Fiction – How Do You Know It's Spring?
Meal Idea: Snowman burning seems kind of mean, but what if you fired up the grill and just invited the snowman to the cookout? That seems nicer.
Dinner Conversation Starter: What's your favorite thing about spring? What's your least favorite?
Learn More: World Sleep Day
Bonus Holiday on the Third Saturday of March: World Quilting Day. Celebrate with We Got Here Together, by Kim Stafford and illustrated by Debra Frasier.
March 21 Celebrate the Birthday of Johann Sebastian Bach & Play the Recorder Day 
At Home Family Fun: Study a little Bach together.Did you know that Bach wrote music for the recorder? It can actually be used to play music other than Twinkle, Twinkle Little Star. Here is a video of Bach's Concerto for Recorder. If you want to go deep, you can purchase and download Bach & The Pipe Organ from Maestro Classics or do an online study of your choice.
Read Aloud Ideas: One of the reasons I'm enthusiastic about the Maestro Classic CDs is that, anyone can take advantage of the curriculum guides on their website to stretch the music fun. For this CD, they recommend learning a little about Germany. The Bach book from the Famous Children series, explores his life growing up in Germany.
Meal Idea: German Food for Sure! I love brats with sauerkraut on top and potatoes on the side. How about some Black Forest cake to finish off the meal?
Learn More About Johann Sebastian Bach on Classics for Kids.
March 22 World Water Day 
At Home Family Fun: Splash around in a sink or tub full of water together. Bring out the bathtub toys and make up water stories.
Read Aloud Ideas: The Incredible Water Show by Debra Frasier.
Meal Idea: Serve ice cold water as your beverage choice today.
Learn More About Johann Sebastian Bach on Classics for Kids.
Bonus March 22 Sing Out Day
March 23 National Puppy Day
Even if you aren't a dog person, puppies are hard to resist.  And here are some allergen friendly ideas to celebrate them
Little Kids: A Dog is a Dog. This is local author Stephen Shaskan's debut picture book.  The pictures are super colorful, and the story is the most unexpected circle story I've read.  It's a super quick read. This one will be a family favorite, I'm sure.
Early Grade School: Puppy Pirates. Another favorite local author, Erin Soderberg, writes this short chapter book series aimed at kids in Grades 1-4. (Erin reads the first chapter of each of these books on her YouTube channel)


Recipe: Pizza Bones 
This is a crowd-pleaser shaped into a puppy-themed decoration. My family won't let our kids eat like dogs, but we will be enjoying this snack as part of our dinner.
March 23rd Bonus Holiday: Celebrate World Bear Day. Bookflix pairs the books Bear Snores On and A Bear Cub Grows Up.



March 24  Dolphin Awareness Month
Who doesn't love a dolphin?  March is Dolphin Awareness Month, and we can celebrate them without needing to be in or by the ocean.
Family Fun: Dolphin Ocean Slime 
Recipe: Dolphin Bananas in Jello 
March 25 Waffle Day in Denmark & Sweden
Waffles are one way to get our kids to eat a healthy-ish breakfast, lunch, or dinner.  Make it even more interesting by making waffles from Denmark on their National Waffle Day.
At Home Family Fun: Denmark Paper Quilt – Just print this off and decorate accordingly.
Outing Idea: Visit FIKA at the American Swedish Institute for a waffle brunch.
Recipes:  Danish Waffles & Swedish Waffles
Swedish waffles, belguim waffles, crispy waffles, soft waffles.  You could try them all, or simply the Danish ones during Denmark's Waffle Day.
March 26 Spinach Festival Day (Also Make Up Your Own Holiday Day, but we've been doing that all year!)
Do you like spinach?  I have convinced my family that spinach is amazing.  Honestly, I'm not exactly sure how.  Maybe it was by the smoothies I have been making.  Whether your family likes spinach or not, today is a day to try it! Make it a party!
Family Fun: Draw Popeye Tutorial
Introduce your kids to Popeye on YouTube, and then have some fun drawing him.
Recipe: Banana Spinach Smoothie
This is a sweet and healthy treat.
---
March 27 National Scribble Day
This is a day we can all get behind.  It doesn't take a whole lot of prep work to grab some paper and crayons and create scribble art.
Family Fun: Scribble Calendar Free Printable  
Read Aloud: I'm Not Just a Scribble
Scribbling is important.  Especially to our littlest family members.  Discover the fun of scribbling in this story.
March 28 Barnum and Bailey Day
It's the greatest show on earth.  Have fun today by putting on your own circus, or something a little more low-key.
Family Fun: Watch The Greatest Showman
While this may not be historically accurate, it's a GREAT family fun show that our whole family enjoys.
Recipe: Circus Snack Mix
Why not enjoy your movie with a classic circus snack?  We found a super simple dump and go recipe.
March 29 Giggle Day (also World Piano Day in 2021, because this is the 88th Day of the Year).
Family Fun: Play the Ha Ha Game
This is a classic game.  See how far you can make it without actually laughing aloud.

Craft: Rock paint with favorite puns.
March 30 National Pencil Day
I love a good pencil.  Nothing beats Ticonderoga pencils for school work, but for sketching and drawing and doodling, there are so many other brands and types.  Even if you don't have a pencil fetish like I do, this is a fun day to play with.
Family Fun: Make Pencil Toppers
You can buy them, but it is a LOT more fun to make them.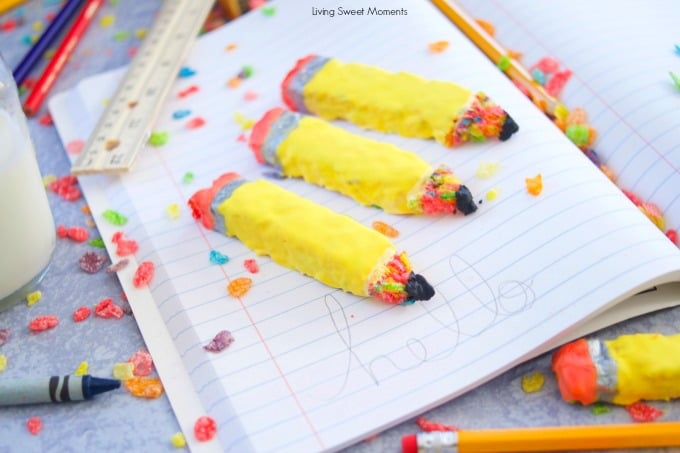 Recipe: Pencil Shaped Cereal Treats  
Make the treat-making part of the fun.  It's about the process as well as the final product.
March 31 National Crayon Day
Family Fun: Melted Crayon Seashells
Pretty much any melted crayon craft would be fun, but if you want some more directions, RedTed Art is one of my favorite go-tos.
Read Aloud: Red, A Crayon's Story
Local author Michael Hall tells a story about Red who doesn't seem to realize who or what he is.
Family Celebrations don't have to be complicated.  They can be really simple. Be intentional (maybe even over the top with your enthusiasm) and these celebrations will be remembered for years to come.