In March of 2020, the whole world was confined to their homes. While we were stuck in our places of residents, we needed something to look forward to. We needed to celebrate. Did you know that there is a holiday you can celebrate every single day? There is and we found 31 March Holidays to create Family Celebrations for you. 
We wanted to get this list to you asap, so we finished it as fast as we could in time for the end of March.  We will update as we can.  Have fun celebrating TODAY!  
FFTC makes a commission for purchases made through
Amazon or Maestro links on this page.
March 23 National Puppy Day
Even if you aren't a dog person, puppies are hard to resist.  And here are some allergen friendly ideas to celebrate them
Read Aloud: A Dog is a Dog
This is local author Stephen Shaskan's debut picture book.  The pictures are super colorful, and the story is the most unexpected circle story I've read.  It's a super quick read. This one will be a family favorite, I'm sure.



Recipe: Pizza Bones 
This is a crowd-pleaser shaped into a puppy-themed decoration. My family won't let our kids eat like dogs, but we will be enjoying this snack as part of our dinner.
March 24  Dolphin Awareness Month
Who doesn't love a dolphin?  March is Dolphin Awareness Month, and we can celebrate them without needing to be in or by the ocean.
Family Fun: Dolphin Ocean Slime 
Recipe: Dolphin Bananas in Jello 
March 25 Waffle Day in Denmark & Sweden
Waffles are one way to get our kids to eat a healthy-ish breakfast, lunch, or dinner.  Make it even more interesting by making waffles from Denmark on their National Waffle Day.
At Home Family Fun: Denmark Paper Quilt – Just print this off and decorate accordingly.
Outing Idea: Visit FIKA at the American Swedish Institute for a waffle brunch.
Recipes:  Danish Waffles & Swedish Waffles
Swedish waffles, belguim waffles, crispy waffles, soft waffles.  You could try them all, or simply the Danish ones during Denmark's Waffle Day.
March 26 Spinach Festival Day (Also Make Up Your Own Holiday Day, but we've been doing that all year!)
Do you like spinach?  I have convinced my family that spinach is amazing.  Honestly, I'm not exactly sure how.  Maybe it was by the smoothies I have been making.  Whether your family likes spinach or not, today is a day to try it! Make it a party!
Family Fun: Draw Popeye Tutorial
Introduce your kids to Popeye on YouTube, and then have some fun drawing him.
Recipe: Banana Spinach Smoothie
This is a sweet and healthy treat.
---
March 27 National Scribble Day
This is a day we can all get behind.  It doesn't take a whole lot of prep work to grab some paper and crayons and create scribble art.
Family Fun: Scribble Calendar Free Printable  
Read Aloud: I'm Not Just a Scribble
Scribbling is important.  Especially to our littlest family members.  Discover the fun of scribbling in this story.
March 28 Barnum and Bailey Day
It's the greatest show on earth.  Have fun today by putting on your own circus, or something a little more low-key.
Family Fun: Watch The Greatest Showman
While this may not be historically accurate, it's a GREAT family fun show that our whole family enjoys.
Recipe: Circus Snack Mix
Why not enjoy your movie with a classic circus snack?  We found a super simple dump and go recipe.
March 29 Giggle Day (also World Piano Day in 2021, because this is the 88th Day of the Year).
Family Fun: Play the Ha Ha Game
This is a classic game.  See how far you can make it without actually laughing aloud.

Craft: Rock paint with favorite puns.
March 30 National Pencil Day
I love a good pencil.  Nothing beats Ticonderoga pencils for school work, but for sketching and drawing and doodling, there are so many other brands and types.  Even if you don't have a pencil fetish like I do, this is a fun day to play with.
Family Fun: Make Pencil Toppers
You can buy them, but it is a LOT more fun to make them.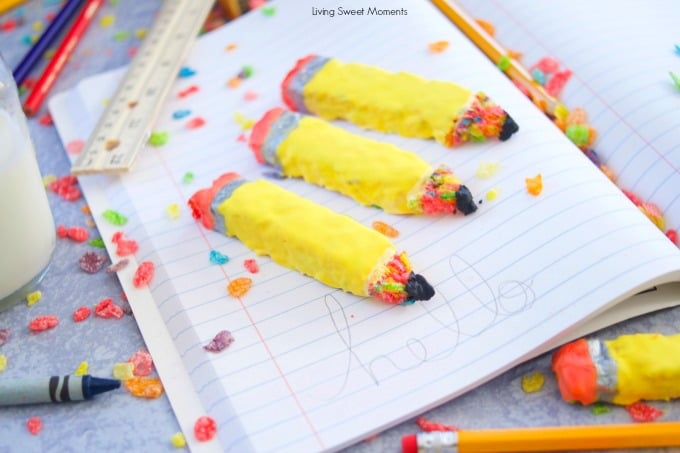 Recipe: Pencil Shaped Cereal Treats  
Make the treat-making part of the fun.  It's about the process as well as the final product.
March 31 National Crayon Day
Family Fun: Melted Crayon Seashells
Pretty much any melted crayon craft would be fun, but if you want some more directions, RedTed Art is one of my favorite go-tos.
Read Aloud: Red, A Crayon's Story
Local author Michael Hall tells a story about Red who doesn't seem to realize who or what he is.
Family Celebrations don't have to be complicated.  They can be really simple. Be intentional (maybe even over the top with your enthusiasm) and these celebrations will be remembered for years to come.