I really love the Family Fun Twin Cities community of parents. Our readers have some great ideas for boredom busters that keep kids busy and engaged in imaginative play. We've collected the 10 top toy and activity selections from our virtual village. These are so on target that I find myself wanting to add many of these to our cart to order for Easter basket stuffers.
This post contains affiliate links to Amazon. We receive a small commission on purchases through our site..
Active Toys to Keep Kids Busy
1) Jump Ropes:
We have two winners in the jump rope department.
For an inexpensive, but quality jump rope, The Champion Sports segmented jump rope is reminiscent of the jump ropes used as boredom busters for school. Like the school ropes, it adds a little weight with plastic beads. Available in multiple colors and lengths.
Readers also like the Green Toys Jump Rope. It is adjustable so the size can be fit to the individual child.
---
2) Ring Toss Game
As far as outdoor games go, this Ring Toss Yard Game actually works pretty well as an indoor physical game, too. Even in my own small house, I think I could make enough room; and the rings aren't too heavy, so I'm not worried about things getting broken.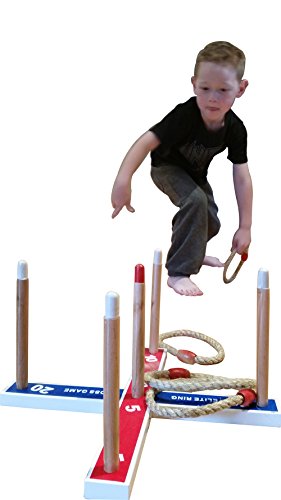 3) Three Legged Racing
While you may know this best as a group game at parties, all you really need is two siblings and a stop watch timer. If they practice three legged racing together now, by the next party, they'll be ready to compete! This activity might be best for backyard or other grassy areas – at least at first.
---
Keep Kids Busy with Arts and Craft Activities
4) Paint by Sticker
If you are looking for creative activities for kids, this is like the Paint by Numbers we remember, but Paint by Sticker is less messy. Aimed at kids ages 5-12, parents like it because it encourages independent play that is not too difficult but offers hours of fun. Other families enjoy doing them together – like a puzzle.
---
5) Learn to Draw
This How to Draw 101 Animals book is the top recommendation from readers, but I like the books by Ed Emberly, too. Both help kids learn to draw with a sequence of steps. Kids can practice following directions, but they can also learn new skills to be creative on their own later.
At Home Educational Activities That Keep Kids Busy
6) Brain Quest Workbooks & Flash Cards
I have always loved picking up Brain Quest cards to make Trivial Pursuit into a family game. Each kid just gets their own developmentally appropriate set of question cards to answer on their turn. However, many of our readers are taking advantage of the workbooks Brain Quest offers to keep kids busy with educational activities at home.
7) Write-On/Wipe Off Books
I'll be honest, I've never been a fan of dry-erase books. I'd rather just keep a fresh supply of workbooks and coloring books (which I can always pick up cheap at thrift stores), but I think the exception is for learning to write letters and numbers. In this case, repetitive use makes sense. This reader pick of the Alphaprints: Wipe Clean Workbook is a good example.
---
Games for Kids to Keep Busy Inside
8) Knock Knock Jokes
Here's a boredom buster you can do anywhere — at home, in the car, or even on the phone with Grandma. Get Lots of Knock-Knock Jokes for Kids in physical or in downloadable Kindle format for instant fun.
9) I Spy Books
A classic favorite, this is a nice activity to keep in the car or other places where kids get bored easily, I spy books are even fun for adults.
10) Go Fish
Is Go Fish everyone's first card game? You can play with your own deck, but readers like this deck because the cards are a bit smaller for small hands and the fish pictures are a little easier to learn than the names of the various playing cards. For older kids, I recommend a good basic deck and a book of card games.
Keep the ideas coming! Leave us a comment or drop us an email with your ideas for the best games and activities to keep you kids engaged. Bonus points if it can be family fun.
Related Posts:
FFTC's Guide to Family Boredom Busters